Bio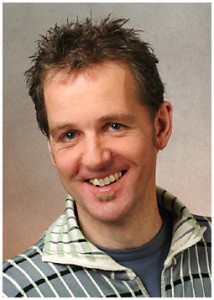 Born to a musical family in Hamburg (both his parents were classical singers, his grandmother a professional vocal coach), Fried received a solid musical education from an early age. He is an accomplished guitar-player and also plays piano and keyboards. He worked as a guitar-player in various bands and projects for many years, before embracing the world of studios, computers, samplers and general modern music-production sorcery.
One of his main interests in music has always been composing and song-writing, and over the years he has acquired a solid understanding of harmony, melody, rhythm and lyric-writing in most contemporary styles. He has been writing music for his own projects, and for various clients and collaborators, covering a wide range of styles, from Jazz-Fusion, Rock and Blues to Pop, Dance, Garage, R&B and Indie.
Moving to Vienna in 1990, Fried enrolled at the newly opened American Institute of Music where he had the chance to study with renown musicans from the United States for 2 1/2 years. He got invited to join famous Austrian band "Halluzination Company" but decided to move on to London in 1993. His mentor and teacher Les Wise (director of AIM Vienna, former head of the Jazz-Department at G.I.T. Los Angeles) introduced him to Tony Muschamp ( director of Musicians Institute, London) who offered Fried a teaching position. Due to RSI in his left hand, he was not able to take up this opportunity at the time though.
In London Fried gradually built up his studio and continuously improved his production and song-writing-skills, making a living from recording demos, masters, and albums for various signed and unsigned artists and songwriters, as well as teaching guitar, piano, song writing, and music-technology.
For a number of years he worked in advertising, producing and writing the music for TV commercials for various large companies, including Lufthansa, Infineon, and Citibank.
He ran his own band for several years, performing his own songs as a singer on the London circuit (Orange, Bull&Gate, Rock Garden, The Garage and the likes). His band's demos and gigs having received promising feed-back from various labels, the band unfortunately split up in 1999.
Since then Fried has been concentrating on his production and song-writing career, busily writing and co-writing with various singers and producers, amongst them writer-producer Boris (Bozidar) Ristic of Riff Raff Music London (Boris has been in-house producer for PWL (Pete Waterman) and Avex for many years) and Dieter Faber (Karat, Nena, Die Prinzen), producer and publisher from Hamburg.
Moving on to Berlin in July 2005 to join the city's rapidly developing music scene, Fried got invited to join London based production company The Animal Farm's writer-/producer-team. Having decided to stay on in Berlin, Fried will function as a talent scout for them.
In Berlin, Fried continued to work as a teacher, producer and studio-musican, doing guitar work for "Lohan&Lomax" (Universal) and TV crime series "Ein Fall Für Zwei", bandcoaching and artist development work for Hamburg label Membran Records, as well as producing "Mat Bahr" (Moonsound-Records) to name but a few activities.
By 2007 the music-biz' efforts at self-disctruction had pretty much succeded, so Fried decided it's a much better idea to start a family instead. His sun was born in summer in 2008.
Wind forward a few years and hit re-load. With the rise of the new media and the biz having undergone a severe shrinking and transformation process, times seem bad for business-sharks and wannabees and good for hardworking and music-loving professionals with fresh ideas. With the help of partners and associates in Berlin and London, plans are being drawn up to find, develop, produce and market musical talents in Britain and Germany.
In 2010 Fried began expanding on his coaching and teaching activities, working for Akademie Deutsche Pop, dBs Music, and get2play, founding his own music school in 2014, "Musiklaboratorium Berlin".

Skills
Fried is a hard worker who continuously updates his skills, embracing new styles with enthusiasm. He has closely studied all drum-programming styles of the last couple decades, from Dance and Hip-Hop to Drum&Bass, Garage and R&B. He is an excellent guitarist who feels at home in all styles and he reads music fluently. He plays piano and keyboards and has acquired a solid understanding of anything related to modern production and engineering, including drum and synth programming, sampling, sound design, orchestral and backing vocal arranging etc. He is an expert Logic programmer and ProTools operator, the first being his main tool in the studio. Last not least he plays the recorder.
With his rounded, friendly and supportive personality Fried makes an excellent co-writer and producer. He is a very good communicator, which enables him to write tailor-made compositions, bringing out the best in every artist. Because he has been collaborating with many young singers over the years, and because of his performance and teaching background, he is also an excellent choice for any label or management company with a young artist in need of coaching and general artistic development.

Education
A-levels ( specialising in English and music)
BA in Economics
5 years classical guitar at Hamburg Conservatorium
2 years piano at J.Brahms Konservatorium in Hamburg
7 years jazz guitar at J.Brahms Konservatorium in Hamburg
11 years recorder at Music School Armin Schneider
Guitar, piano, composition and vocal lessons with various private teachers
3 years singing lessons, classical and jazz
2 1/2 years contemporary guitar at American Institute of Music in Vienna, studying with top musicians from the United States:

Jazz major with Les Wise (former head of the jazz department at the famous Guitar Institute of Technology in Los Angeles (M.I.), author of "Inner Jazz" and "Bebop Bible")
Seminars and workshops with Joe Pass, Alan Holdsworth, Joe Diorio, Frank Gambale, Steve Lynch and others.
Fusion major with Wayne Brasel ( including Funk, Blues and Pop guitar styles)
Rock guitar with Paul Hanson ( former head of Rock guitar at G.I.T. in Los Angeles)
Singing lessons

3 months "Sound Recording and Studio Techniques" at Goldsmiths' College, London

Clients/Employment

London:
1993-2005 teaching countless private students, including 80ies Pop star T'Pau and bassist Michael Bramwell, who played with the Lighthouse Family and other known acts
Vincent Chernais, "Heaven Ain't Gonna Happen" ( independent release)
Zack, 3 track demo (supported Peter Gabriel on his world tour, early nineties).
Yaw B , 2nd album ( his first album sold more then 40.000 copies, the second probably more)
Ian Siegal, album (Ian also features on the album "Tell Me There's A Sun" by The Lee Sankey Group)
Lufthansa, commercial
Infineon, commercial
QSC, commercial
Maxdata, commercial
Citibank, commercial
E-Plus, commercial
BozidarRistic, engineering countless vocal sessions, guitar and keyboard work ( Boris had many releases in south-east Asia and Europe, and worked with Pete Waterman, Kim Wilde, Bananarama, 10CC and many others)
Science Museum, London ( music for web-site)
2000-2005 Aylwin Girls' School, teaching guitar, piano / keyboards, composition
Geoff Smith, album ( Geoff has released albums with The Palace of Light, Mabel Joy, and Farina)
Matt Gale from Farina ( drum editing work on their album "Three People", out on Pickled Egg Records)
Nicole Formescu, Tsunami relief song (she wrote "If You Come Back" for Blue, No1 in the UK in 2003)
Berlin:
teaching and coaching countless private students, including Moguai, Basti Schwarz ("Tiefschwarz"), Anthony Thet (X-Factor), Peter Lohmeyer and Kai Schwarz.
"Raydown", guitar work (they had two singles released under "Lohan&Lomax", signed to Universal).
Membran Records, Hamburg. Coaching and co-writing with singer "Carina" and her band.
Julian Boyd, 2 episodes of "Ein Fall Für Zwei", german TV crime series, studio musician (guitar).
Mat Bahr, album, out on Moonsound-Records, summer 2010. Production and co-writing.
Musicproduction, various clients in the Berlin / Hamburg area
Deutsche Pop Akademie, tutor (D0zent) (musictheory, Songwriting, guitar, piano)
dBs Music Berlin, business developement,
dBs Music Berlin, tutor (Dozent) (Logic, Arrangement)
FuturZwei, Podcast productions
get2play, developing and presenting online guitar courses
Musiklaboratorium Berlin, own music school founded in 2014